The dates you are booking for contain one or more non-refundable dates. You must pay for your full booking upfront. Please see terms and conditions and for more information please dont hesitate to call.
Premier Suite
Our largest one bedroom suite with super king bed and ensuite with bath and separate shower. Park views towards the Thorndon Hills from your bedroom and living area. The living space has sitting area, dining table for four and fully equiped kitchen with washer/dryer unit. 55 sqaure metres.
FREE Wifi
Guaranteed park views
In room safe
iPad mini
King bed
Kitchen
Premier Suite only
Date
Price per Night
Total price inc. GST
Book Premier Suite, room only
Wed, 28/06/2017
Thu, 29/06/2017
$449.00
$449.00
$898.00
Bolton Suite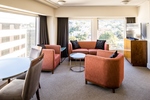 Bolton Suite, our iconic two bedroom suite. The master bedroom has a king bed and ensuite with bath and separate shower. A second bedroom has king bed or two singles and second bathroom with shower. The generous living area has seating and dining table for four, full kitchen and washer/dryer unit. You'll enjoy views of the city to the north and the Thorndon Hills.
FREE Wifi
Guaranteed park views
iPad mini
Kitchen
Two king beds or one king & two singles
Bolton Suite only
Date
Price per Night
Total price inc. GST
Book Bolton Suite, room only
Wed, 28/06/2017
Thu, 29/06/2017
$599.00
$599.00
$1198.00