Since 2012 the Bolton Hotel has been a major sponsor of The Performance Arcade, an annual festival of Live Art Installations that takes place in a series of architecturally arranged shipping containers on the bustling Wellington waterfront. Inside each container are spaces for installation, performance art, sonic art, audio-visual art, interactive media, culinary art and live music.
Every year we look forward to the Performance Arcade because we never know what crazy installations will be going on. It's a hugely anticipated show with an ever-increasing international profile. There's been glowing feedback from the public, who as unsuspecting passers-by, can't help but be drawn into the fun.
We're always keen to get involved too. Every year The Bolton Hotel hosts visiting international artists and recently our staff contributed their own creative ideas for the Arcade. In 2015 we presented the culinary performance P.I.G. featuring the talents of Artisan Dining House Executive Chef Maclean Fraser. In 2016 we hosted Tea and Cake, this was an installation where passers-by were invited to enjoy high tea. Unknowingly they were then requested to 'pay it forward' to then prepare the high tea for the new guests who arrived at the container.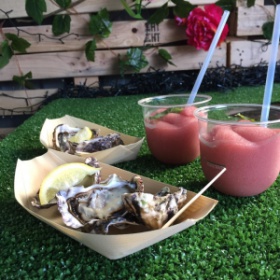 This year we lauched Oh Shucks! a Frosé and Oyster Bar. We served up frozen Leftfield Rosé and NZ oysters from a shipping container on the waterfront. We certainly had lots of fun!
Check out Leftfields Frosé recipe for youself
Photo credit: Wellingnoms
Who knows what we'll get up to next year.
The Performance Arcade is free to the public and takes place over 5 days during February/March. Watch this space for details about The Performance Arcade 2018.